This has been a week of firsts for me: first time shipping to Canada (yay for shoppers!);
first time taking Moondoggie with me to the post office and leaving him outside ALONE to wait (he's a very well-behaved dog, but he IS a dog and I'm overprotective. The Doomed's main concern was what if he attacked someone, mine was what if someone stole him 'cause he's so cute.);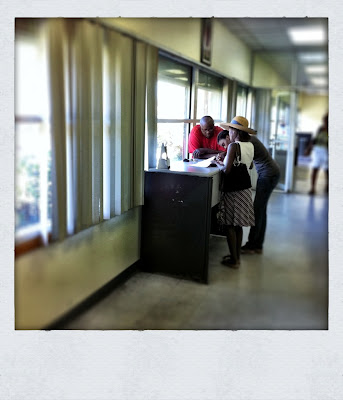 See that windowpane next to gentleman in red? My camera didn't catch it but I could peek at Moondoggie through there. Spent the entire time bouncing in and out of the post office line making sure I could still see him.
first time using my prototype handbag (I'd like to start making and selling bags in the shop but it's definitely a new venture for me and I wanna make sure they're well-made and hold up);
Embroidered handbag!
and my first time doing four days straight of my spinning class. Am I crazy? Maybe. I'm definitely sore but I gotta admit it feels good, especially considering how much time I spend sitting on my posterior, crafting away. I'm gonna even it out by stuffing my face with pizza this weekend - I've been craving it and haven't had pizza in a long while. Gotta live a balanced life. :)
- Posted using BlogPress from my iPhone