Guess who manned her booth all by her lonesome at the Odd Duck show this past Saturday?
Me!
It wasn't supposed to work out that way but The Doomed ended up having to go to work and I'm nothing if not a trooper. So, after our now traditional pre-show McDonald's breakfast, he helped me set up, then took off - leaving me without a co-seller and booth buddy for what turned out to be the whole day. But you know what? I don't need no stinking man! I did it myself and, if I do say so myself, I did rather well.
All set up and ready to sell!
Oh, and I had had such great plans to meet and greet and document my second craft show as thoroughly as possible. Instead, I only got to take pictures of the area immediately surrounding me and met and greeted only those who came up to me.
Wanna see?
To my front left
Right in front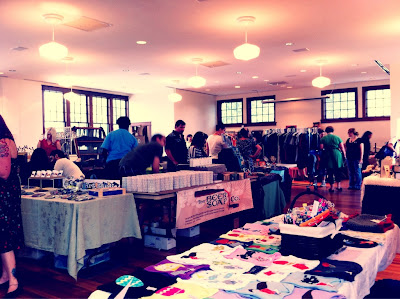 To my right
Fascinating, isn't it? The show was excellent, tons of people all day long, and everyone seemed to be making sales. Even me! I was indoors, on the second floor, basking in air conditioning and, boy, was I lucky because it was a
scorcher
that day. It took a little longer than my first show for me to start making sales but once I did, it was a steady business day for me.
I even got to meet a few folks! Katie from
Kaytea
had the booth to my right and we ended up chatting all day. Having her to converse with made the day far more entertaining for me and I was really glad I got a chance to meet her. Plus, she makes adorable baby clothes (modeled by her own adorable baby). If only I knew some babies to shop for! I also met Tanya of
Dreads and Curls
, a fellow knitter who makes such beautifully detailed accessories along with her partner (who's name escapes me at the moment - darn it!). I love their shop name - she's the curls and her partner's the dreads! Ha!
By the end of the day, I was exhausted and hungry and my cheeks hurt from all the smiling - but it was so worth it. I can't wait to do it all over again! Honestly, it's so much work and stress getting ready for craft days but nothing compares to the genuine feedback and appreciation you get from folks at theses shows. I love it!
- Posted using BlogPress from my iPhone