'Round these parts there's always a new cuff being worked on. I can't get enough of them and figure I don't have to! The latest one is made out of a houndstooth-print ribbon and I thought the classic black/white/red color combination would be perfect.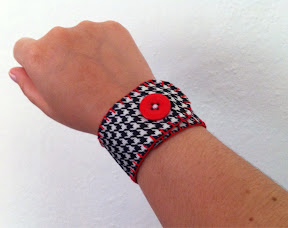 Hmm. I do like the colors together and the button, but I'm not sure the blanket stitch works here. Houndstooth is already such a busy print and I think the red all around the edges clashes and is just too distracting. The Doomed wasn't entirely sold on it either so I think I gotta go back to the drawing board on this one. My best bet is probably to simplify it down and let the red button stand alone. What do you think?
In positive news, may I tell you how much I love my new buttonhole cutter?
Such a basic thing but it works so much better than my ol' x-acto knife. And I'm totally digging the mini-mat it came with! It's the simple things in life that make me happy. :)
- Posted using BlogPress from my iPhone